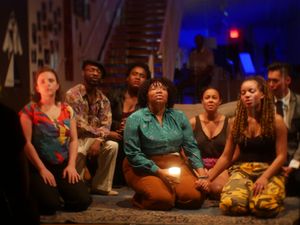 Our story is one that is small,
                                                      but mighty.
 

It is one that is still in the making.
 

It is a story about a group of youngsters
           

who felt unsatisfied with the way theatre
                                

has represented them individually,
                                                     and collectively,
 

and actively chose to
                   create their own path.
It is a story about young black and brown
                                 

non-binary folx, men, and women,
 

and their allies and accomplices
                                                  

prioritizing themselves
                                               and their communities
 

before the commercial capitalist society.
It is a story of radical love,
                                                self-love,
                                                          and empathy.
It is a coming of age story about finding yourself
                                                                               

and sharing your story.